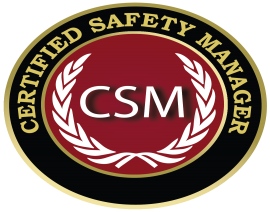 $2295.00
Certified Safety Manager
class 18 Courses
access_time 40:00 Hours
Certified Safety Manager (CSM):
This Safety Manager Certification is an indication to employers, potential employers, regulatory agencies, and the courts that you have the knowledge, skills, and abilities equivalent to a level of proficiency expected of a professional who is capable of working with little or no supervision while managing the safety programs, policies, and procedures common to business and industry.


Creating a safety culture in the workplace can be difficult. This course will provide the tools necessary to implement proper safety training and an effective safety program. Students will learn how to understand and interpret regulations, avoid civil and criminal liability, increase worker morale, reduce workers comp rates and most importantly, minimize or eliminate injuries in the workplace. The required amount of time to complete the course is dependent upon your knowledge of workplace safety, but we find that the average completion time is approximately 40 hours. You have up to six months to complete the course.
Learning Objectives:
Our Certified Safety Manager (CSM) Certification will allow you to do the following:
Study of primary workplace safety topics

Information to qualify you as a safety expert and manager

Learn training methodologies that change the way your employees work

Save money by developing your own safety programs

Avoid civil and criminal liability for accidents and injuries

Determine proper interpretation and application of OSHA regulations

Establish acceptable analysis and documentation of workplace hazards

Manage workplace safety inspections and audits

Investigate, analyze and document workplace accidents and root cause analysis

Create and manage a successful safety culture using the latest behavior modification techniques
Show More
Classroom Course
Online Course